Fragrance Families
Classification by olfactive family is a starting point for a description of a perfume, but cannot by itself denote the specific characteristic of that perfume. Many fragrances contain aspects of different families. Even a perfume designated as "single flower", however subtle, will have undertones of other aromatics. "True" unitary scents can rarely be found in perfumes as it requires the perfume to exist only as a singular aromatic material. Traditional classifications of perfumes (which date back over 100 years) have been expanded upon, with new categories emerging to describe more modern scents:
Traditional
Single Floral: Fragrances that are dominated by a scent from nature's most prolific odour-makers, the flowers.
Floral Bouquet: Containing the combination of several flowers in a scent.
Ambery: A large fragrance class featuring the scents of vanilla and animal scents together with flowers and woods.
Woody: Fragrances that are dominated by woody scents, typically of sandalwood and cedar. Patchouli, with its camphoraceous smell, is commonly found in these perfumes.
Leather: A family of fragrances which features the scents of honey, tobacco, wood and wood tars in its middle or base notes and a scent that alludes to leather.
Chypre: Meaning Cyprus in French, this includes fragrances built on a similar accord consisting of bergamot, oakmoss, patchouli, and labdanum. This family of fragrances is named after a perfume by François Coty.
Fougère: Meaning Fern in French, built on a base of lavender, coumarin and oakmoss. Many men's fragrances belong to this family of fragrances, which is characterized by its sharp herbaceous and woody scent.
Modern
Bright Floral: combining the traditional Single Floral & Floral Bouquet categories.
Green: a lighter and more modern interpretation of the Chypre type.
Oceanic/Ozone: the newest category in perfume history, appearing in 1991 with Christian Dior's Dune. A very clean, modern smell leading to many of the modern androgynous perfumes.
Citrus or Fruity: An old fragrance family that until recently consisted mainly of "freshening" eau de colognes due to the low tenacity of citrus scents. Development of newer fragrance compounds has allowed for the creation of primarily citrus fragrances.
The Fragrance Wheel
The Fragrance wheel is a relatively new classification method that is widely used in retail and in the fragrance industry. The method was created in 1983 by Michael Edwards, a consultant in the perfume industry, who designed his own scheme of fragrance classification after being inspired by a fragrance seminar by Firmenich. The new scheme was created in order to simplify fragrance classification and naming scheme, as well as to show the relationships between each individual classes.
The five standard families consist of Floral, Oriental, Woody, Fougère (the more "classic" families), and Fresh (which consists of newer, bright and clean smelling citrus and oceanic fragrances that have emerged more recently). With the exception of the Fougère family, each the families are in turn divided into three sub-groups and arranged around a wheel: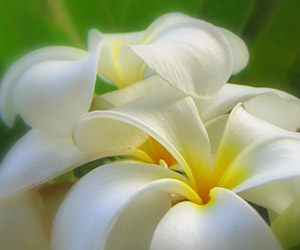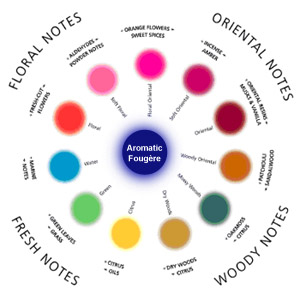 Copyright &copy 1992-2004 Michael Edwards